In a surprising move, the Australian government recently decided to place a ban on many gambling-themed mobile games and applications. This government censorship of mobile gambling games is reminiscent of how Apple and Android remove certain types of gaming applications from their online storefronts. Nonetheless, this move by the Australian government has shocked the country's online casino owners and software makers. This is because few countries have actually censored mobile gambling applications.
Australian Government Targets Certain Applications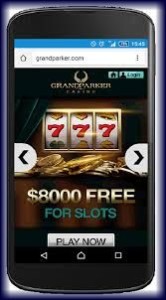 The first gambling applications that the Australian government plans to ban are digital casino games that have not received appropriate classification from the most popular mobile companies and platforms. Some of these platforms include Apple, Google Play, and Android. Beginning on July 1, 2015, these unclassified games and applications will be censored by the Australian government.
Besides banning unclassified mobile casino applications, the Australian government also collaborated with the International Age Rating Coalition to rate many of the most popular mobile gambling games that are currently being sold through Apple, Google Play, and other platforms. The IARC forces game developers to provide detailed information on the content of their application or game. After receiving this information from software companies, the International Age Rating Coalition rates mobile games and phone-based applications.
The Australian Government's Goals for Censorship
According to spokespeople working for the Australian government, rating and censoring specific mobile applications and casino-based games ensures that mobile users are safe. In particular, the Australian Classification Board is concerned that teenagers and kids could download casino games from Apple and begin placing bets illegally. Similarly, the Australian government believes that easy access to mobile casino games could create higher rates of gambling addiction in the country.
The Australian government also censors games that feature crude humor and explicit graphics.